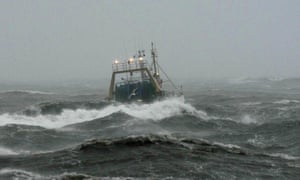 Internal documents obtained by Guardian show officials raised issue of trafficked workers from countries outside Europe five years ago
The Irish government was aware of the trafficking of migrant workers into its fishing fleet as long ago as 2010 but failed to tackle the problem. Internal documents obtained by the Guardian following a freedom of information (FoI) request show that, under the previous administration, trafficking of fishermen from countries outside Europe was raised by officials tasked with investigating illegal employment and the flouting of immigration laws in the sector.
A Guardian investigation last month uncovered allegations of the widespread exploitation of undocumented Africans and Asians and suspected cases of human trafficking in the Irish prawn and whitefish fleet. In response to our report, the Irish government held emergency cabinet discussions and established an interdepartmental taskforce to devise urgent solutions to the problem.
But the FoI documents, released to us by the Irish Department of Jobs, Enterprise and Innovation, show that the Irish government had known of the problems for years. Officials had begun drafting a work permit scheme for seafarers to address illegality in 2008. Difficulties over the division of responsibilities between government departments and bodies, and practical objections, were still being discussed in 2010. The scheme remained shelved until the Guardian's revelations in November 2015.
The taskforce set up in the wake of our investigation was chaired by the minister for agriculture, food and the marine, Simon Coveney, and it issued its report earlier this week. The report detailed plans to introduce a bespoke permit scheme to allow boat owners and non-European migrants working for them illegally to apply for permission to remain on Irish vessels.
The taskforce has yet to address the problem of human trafficking in the fleet, however. Instead, it appeared to push the problem beyond parliamentary elections expected in February. "A new national action plan to combat trafficking will be published in the coming months," the report said.
http://www.theguardian.com/global-development/2015/dec/17/ireland-trafficked-migrant-fishermen-2010-trawlers-guardian-investigation