THERE WAS A rise in the number of assaults and sexual offences reported in the 12 months up to March of this year, but a decrease in burglaries.
New figures from the Central Statistics Office (CSO) show there was an annual increase of 1,094 (+6.9%) records of attempts or threats to murder, assaults, harassments and related offences, compared to the same period in 2015.
Some 175 more sexual offences (+8.2%) were recorded, and one additional homicide (+1.6%).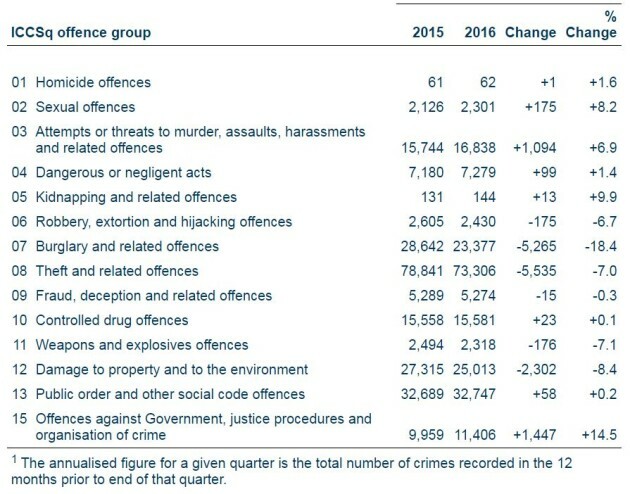 In the 12-month period ending in March 2016, there were 37 recorded murder and manslaughter offences, the same number as in the previous 12 months. Dangerous driving leading to death increased by one offence over the same period.
There were 23,377 recorded burglary and related offences, a fall of 5,265 (-18.4%) when compared with the previous 12 months.
This was mostly accounted for by an 18.4% decrease in recorded burglary offences. The number of aggravated burglary offences and possession of an article (with intent to burgle, steal, demand) also decreased.
http://www.thejournal.ie/crime-stats-ireland-2852536-Jun2016/