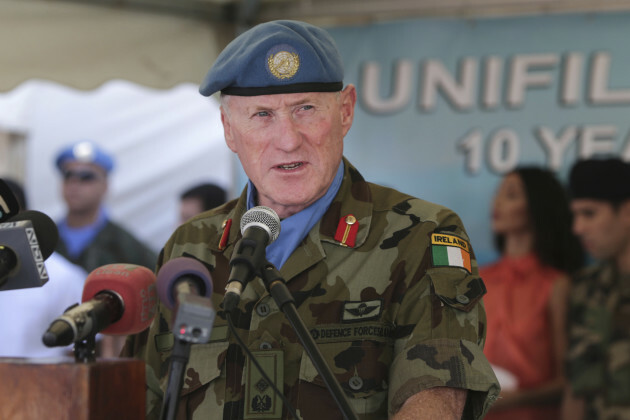 IRISH PEACEKEEPERS STATIONED in south Lebanon are at risk of being targeted by militant jihadists, according to the Irish General who commands the UN force in the country.
More than 300 Irish soldiers currently serve in Lebanon and "the biggest concern", according to United Nations Interim Force in Lebanon (UNIFIL) Major General Michael Beary, is the "jihadist threat".
He told RTÉ's This Week programme: "Definitely, we would be a target for that kind of activity because a lot of member states who are contributing to UNIFIL are part of the global coalition against ISIS, so it is something I have to be very careful with.
Our indications would certainly be that, with the retrenchment of ISIS and such groups as Nusra in Syria and in Iraq, that there is the possibility that they will seek to exit through Lebanon.
"We do know, for example, that we have Sunnite jihadists within the body of some of the Palestinian refugee camps, so we have to be extremely careful with that to ensure that it doesn't affect the work of UNIFIL in south Lebanon."
UN peacekeepers are stationed in south Lebanon and the UNIFIL mission monitors the ceasefire line which separates Lebanon and Israel.
UNIFIL forces began to work alongside Lebanese armed forces to maintain peace in the region under a UN resolution passed after the 2006 war with Israel.
Earlier this month, civilians attacked a number of UN peacekeepers out on patrol in the region. None were injured but several vehicles were damaged.
http://www.thejournal.ie/irish-peacekeepers-lebanon-3247787-Feb2017/