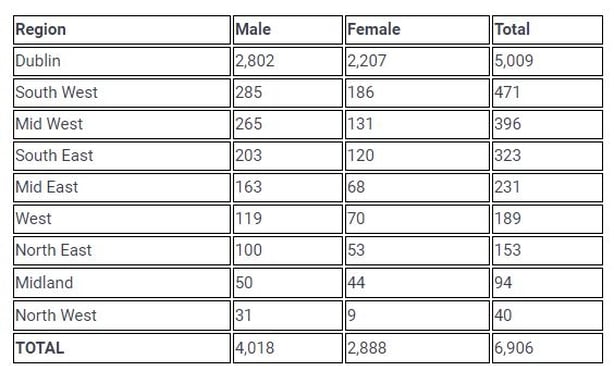 The Central Statistics Office has published its latest profile report of results from Census 2016 which focuses on homeless people in Ireland.
The report shows that, on Census night in April last year, just over 6,900 people were either sleeping rough or in accommodation designated for the homeless.
The CSO said that the homeless figures from last year's Census are not directly comparable to the figures it collected in the previous Census five years earlier, because those in long-term homeless accommodation are excluded, while those living in private emergency accommodation such as commercial hotels and B&Bs are in for the first time.
However, the new Census numbers reflect a huge increase in homelessness in Ireland.
The figure is now 6,906 people. It was 3,744 five years ago including about 1,000 in long-term accommodation residents not now included.
72% of the homeless are in Dublin. 58% are male. The average age is 31, although 23% of the total is children under the age of 15.
The Head of Policy and Communications for the Simon Community has said the results should "frame the appropriate responses" for moving people back into their homes.
Speaking on RTÉ's News at One, Niamh Randall said the figures show the impact of austerity, the absence of affordable housing and issues like zero hour contracts and poorly-paid jobs.
Ms Randall added that "one-size will not fit all," saying that an "individualised, tailored response" is needed "to meet each individual's housing need and then to provide the wraparound support they may need to live independently."
https://www.rte.ie/news/ireland/2017/0810/896522-cso-homeless/