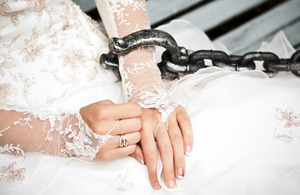 A total of 450 marriages have been halted in Ireland since the introduction of sham marriage legislation.
Gardaí set up a dedicated operation – codenamed Vantage – two years ago to tackle an alleged trafficking ring which was using women who had been trafficked illegally into Ireland to take part in sham marriages.
Since the operation was set up in August 2015, General Registrar Offices can alert gardaí if any doubts arise about the legitimacy of any potential marriages.
The latest figures from An Garda Síochána show that since August 2015, there have been more than 250 objections to marriages raised by registrars.
Gardaí confirmed that over 80 marriages have been cancelled by the General Registrar and An Garda Síochána following enquiries and investigations by Operation Vantage.
When "no shows" on the date of the ceremony are added to the picture, an excess of 450 marriages have not been completed since Operation Vantage was launched.
The crackdown has also resulted in a fall in the number of notifications of intention to marry between EU and non-EU citizens.
Figures from gardaí should that 1,468 notifications were received in 2015. Last year a total of 694 notifications were received, this shows a drop of 53%.
Levels have continued to fall in 2017 with notifications recorded in January to September 2017, compared to 580 during the same period of 2016 – a drop of 41%.
http://www.thejournal.ie/sham-marriages-ireland-3724543-Nov2017/