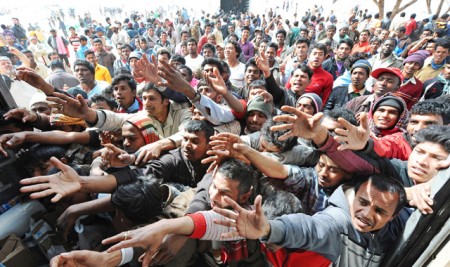 "When I arrived here it felt such a big relief. I felt 'I'm fine, I'm safe'. All I knew was that I was leaving my country; I did not know what lay ahead for me," Khaled says.
For the Sudanese national, however, it would take almost six years in the Direct Provision system to secure asylum in Ireland. His application was refused at first instance, when assessed by the Government's international protection office, and was also rejected when considered by an appeals tribunal.
Today, the 35-year-old is happily settled and working as a fitness instructor in Cork city. He is hoping that his son, whom he hasn't seen since for nine years, will be able to join him under the family reunification programme.
Khaled is one of almost 16,000 people who sought asylum in Ireland between 2008 and 2016. He is also among the almost nine in 10 applicants refused asylum at first instance during this period, according to an analysis carried out by Belfast-based website The Detail.
The special investigation, supported by the Mary Raftery Journalism Fund and Tony Ryan Trust, examined the European Commission's database, Eurostat, to reveal that Ireland had the second-lowest rate of granting asylum (13 per cent) across the EU and compared poorly to the EU average of 44 per cent between 2008 and 2016.
Asylum grant or recognition rates are calculated based on the grant or refusal of asylum at first instance when applications are decided by the Government's international protection office. The Eurostat database does not indicate how many applicants, such as Khaled, go on to secure asylum following judicial review proceedings in the High Court or Supreme Court.
Eurostat data shows that Irish authorities granted asylum to 1,990 applicants at first instance between 2008 and 2016. The majority were granted refugee status (70 per cent) because of a serious threat to their life or freedom, as defined under the Geneva Convention. The remaining 30 per cent were granted subsidiary protection because of a risk of serious harm if they were returned home.
More than half of those granted asylum came from Iraq (260), Syria (255), Afghanistan (175), Somalia (135), Pakistan (120), Iran (110) and Sudan (110).
Of the 13,710 applicants refused asylum, the highest numbers came from Nigeria (2,810), Pakistan (1,685), the Democratic Republic of Congo (685), Zimbabwe (620), Albania (520) and South Africa (425).
While yearly asylum grant rates show some improvement since 2014, Ireland's more recent rate remains significantly lower than the EU average – in 2016 the EU average rose to 61 per cent, Ireland stood at 23 per cent.
The spokesperson added: "In Ireland the five leading applicant countries for 2017 were Georgia, Albania, Pakistan, Nigeria and Zimbabwe which are not acknowledged conflict zones with high grant rates."
https://www.irishtimes.com/news/social-affairs/khaled-s-story-direct-provision-is-like-living-in-a-jail-1.3388461